Welcome to the Graduiertenkolleg 2376
Confinement-controlled Chemistry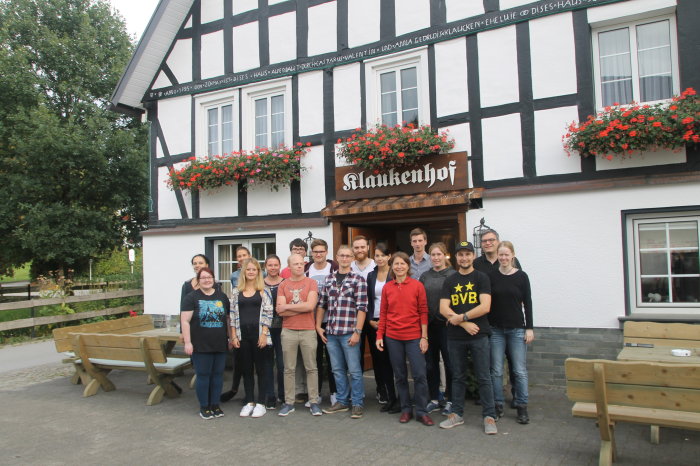 The Research Training group GRK 2376 will determine how the nature of a confining environment like geometry, surface texture and surface chemistry affects the transition states and pathways of chemical reactions. This scientific approach will be addressed by researchers from Ruhr-Universität Bochum, Technische Universität Dortmund and collaborating partners from University of California, Berkeley. Their complementary scientific expertise enables to combine theoretical models and state-of-the-art experiments in synthesis, spectroscopy and surface science. Thus, the collaborative research will contribute to the fundamental understanding of confinement-controlled reactions.
NEWS
April 2nd, 2019
New Mercator Fellow
We are looking forward to welcome our first renowned Mercator lecturer, Prof. Dr. Kenneth N. Raymond from UC, Berkeley to our graduate school. He will contribute to a high-quality research training of our PhD students by giving lecture series and colloquium lectures in supramolecular coordination chemistry. Furthermore, the PhD students and PIs will benefit from his broad expertise by intense scientific exchange during his research stay at RUB and TUD in May 2019 and beyond.

March 4th, 2019
New PhD Students
Two new PhD students joined our Research Training group. We welcome Julien Rowen and Kevin Scholten and wish them a successful work!

Februrary 18th, 2019
Equal Opportunities
We are glad to become part of the equality policy "Equal opportunities in DFG funded programs", which was developed by DFG funded collaborative research centres and the administrative department for organisational and professional development at the RUB.
This policy will promote the career development of our young female researchers, as well as equal opportunities for men and women.
Februrary 7th, 2019
Recent Publications
Half a year after funding start of our graduate school, first results have been published in renowned peer-reviewed journals.
Congratulations!


Mechanistic Interplay between Light Switching and Guest Binding in Photochromic [Pd2Dithienylethene4] Coordination Cages
R. Li, J. J. Holstein, W. G. Hiller, J. Andréasson, G. H. Clever
J. Am. Chem. Soc. 2019, 141, 5, 2097.
Nanoconfined Water within Graphene Slit Pores Adopts Distinct Confinement-Dependent Regimes
S. Ruiz-Barragan, D. Muñoz-Santiburcio, D. Marx
J. Phys. Chem. Lett. 2019, 10, 329.
December 10th, 2018
New PhD Students
We welcome Patricia Palitza and André Platzek to our graduate school, who have just started working on their PhD research projects!

October 17th, 2018
New PhD Students
Already ten PhD students have started to work on their research projects in order to address the fundamental problem of "Confinement-controlled Chemistry".
We welcome the following PhD students in our Research Training Group:
Niclas Blanc, Kristina Ebbert, Sarah Funke, Maximilian Jaugstetter, Saskia Körning, Vladimir Lykov, Thorsten Ockelmann, Niklas Sülzner, Luisa Weirich, Kevin Wonner

October 8th, 2018
Qualification Schedule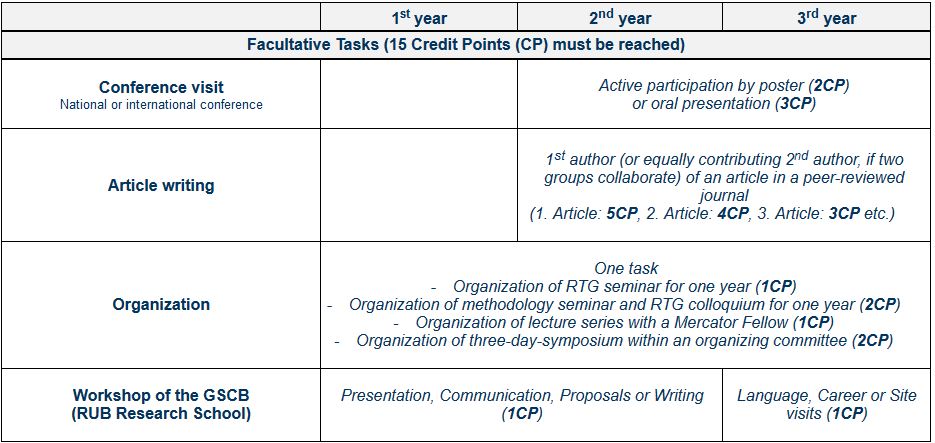 The Research Training Group provides a broad education and numerous qualifying measures for the PhD students. These are summarized in the qualification schedule.

September 17th, 2018
First Retreat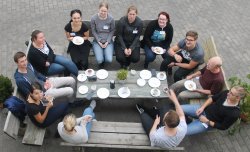 The first annual meeting at the Landhotel Klaukenhof, Lennestadt from September 9-15, 2018 was a full success!


July 1st, 2018
Start of Funding
The funding period of our Research Training Group (GRK 2376) starts today and comprise 4,5 years of intense research on topics concerning "Confinement-controlled Chemistry". As a result of successful application processes, the first cohort of PhD students will start soon.
December 20th, 2017
New Graduate School
The German Research Foundation (DFG) has established the new Research Training Group Confinement-controlled Chemistry (see DFG press release), a program supporting PhD students with an interest in exploring the influence of geometrical confinement on reactions.
The starter's gun for the Research Training Group GRK 2376 will be fired on July 1st, 2018, when the first cohort of PhD students will commence the research and education program.